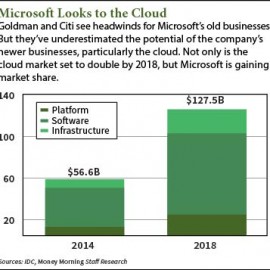 Now that two of Wall Street's biggest names have put an unusual "sell" rating on Microsoft Corp. (Nasdaq: MSFT) stock, investors might be tempted to dump shares of the tech giant.
That would be a mistake.
Both Goldman Sachs and Citigroup have utterly misunderstood what's going on with Microsoft. Both have lowball price targets on Microsoft stock. Both ignored a string earnings beat last month.
They just don't get it.