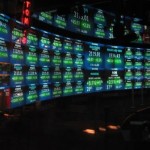 In technical analysis, you study a stock's chart to figure out if it's about to soar, ready to plummet, or just treading water.
And in my 30 years knocking around Silicon Valley, I've found that the stocks with the best charts tend to be small caps.
But not all stocks with eye-popping charts are risky small caps.
My charts have revealed two big-cap tech stocks with small-cap charts.