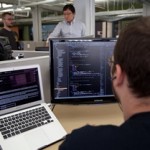 Update on tech stocks to buy: With the long-term decline in PC sales, many investors and the big-money guys on Wall Street are writing off software, too.
But increased sales of commercial software more than make up for the decline in PC-related software.
Today, I'm going to tell you about one of the single best software investments you can make to benefit from the profits of the entire software industry.