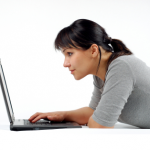 A controversial Internet sales tax moving through Congress will mostly benefit big corporations and state governments while hurting thousands of small businesses and consumers.
The Marketplace Fairness Act would essentially end tax-free Internet shopping by forcing online retailers with revenue of $1 million or more to collect sales taxes for the states in which their customers reside.
As it stands, online retailers do not have to collect sales taxes from out-of-state customers unless the retailers have a physical presence in that state, like a store or a warehouse.
Yesterday (Monday), the bill passed a procedural vote in the Senate by a 74-20 margin, which strongly hints at passage in the upper chamber in a vote expected later this week.
While there's more resistance to an Internet sales tax in the House, the bill is known to have bipartisan support there as well. President Barack Obama also has voiced support for the bill.
If it becomes law, the Marketplace Fairness Act will radically change the online shopping landscape.
"It really should be renamed the Internet Tax Collection Act because it is going to make online businesses the tax collectors for the nation," complained Sen.Kelly Ayotte, R-NH, one of the most vocal opponents of the bill.