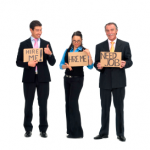 Employers added just 88,000 jobs in March, according to the U.S. jobs report released Friday, hiring at the slowest pace since June 2012.
The number was a huge miss. Analysts expected a gain of 200,000.
"We all over shot it," Austan Goolsbee, former chairman of the Council of Economic Advisors in U.S. President Barack Obama's first administration, said on CNBC. "This is a punch to the gut. I mean, this is not a good number."
Since the government's way of calculating unemployment is frighteningly inaccurate, even with such a small amount of jobs added the unemployment rate fell from 7.7% to 7.6%.
That's because the labor force participation rate slipped from 63.5% to 63.3% -- the lowest level since 1979.