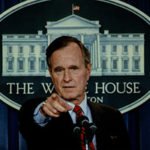 On Saturday, U.S. President Donald Trump declared Dec. 5 a national day of mourning for former President George H.W. Bush, who passed away last Friday at the age of 94.
As is tradition for periods of national mourning, all major trading floors will be closed.
These include the New York Stock Exchange and the NASDAQ.
It also includes major indexes like the Dow Jones Industrial Average.