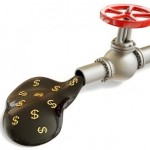 Nigeria generates more than 14% of its GDP from oil exports. Those exports account for 98% of the country's export earnings, and close to 83% of federal government revenue. Nigeria may more than 22 billion barrels in proven reserves, according to the United States Energy Information Administration. Nigeria is the tenth-most oil rich nation on Earth, with 159 oil fields and about 1,481 oil wells in operation.
The numbers look more than promising. On paper, this country should be a prime destination for investment dollars and oil development. So why is Nigeria's natural petroleum wealth on the verge of destroying a large part of the country?
This is a troubling situation in which there's no clear bad guy. The Nigerian federal government, multinational oil companies, and disadvantaged locals are all bad actors in some way.