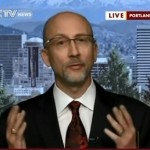 The Bank of Japan is sticking to its policy of fiscal stimulus to try to stoke inflation, and that's rattled markets worldwide.
There are short-term signs of economic recovery such as an increase in consumer spending and in manufacturing.
But longer-term, Money Morning Chief Investment Strategist Keith Fitz-Gerald told CCTV, "there has never been an instance in history where stimulus has worked. So the question really is when, not if, this will break down."