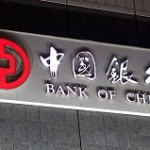 Beating up on China has become a national sport for Western commentators. Their economy is slowing, they lie about their statistics, and their "growth" is being propped up to meet political objectives, goes the chorus.
The truth is, some of the China concerns are overblown. The country's economy has nearly doubled in size from six years ago. Even at a lower growth rate, China remains a key driver of global consumption and production.
And other impressive data swirling around are largely ignored.
For instance, the obscene growth of Chinese banks.