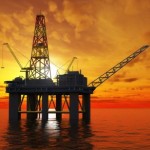 The spread between West Texas Intermediate (WTI) and Brent continues to narrow.
Thanks to additional new U.S. pipeline capacity and the growing volume of oil product exports from American refineries, the glut of excess storage at Cushing, Okla., is shrinking.
This ongoing glut has been the single biggest reason why WTI trades at a discount to Brent. As I write this, WTI is approaching $104 a barrel and Brent $111.
With crude oil prices continuing to rise, you would think that would be good news for both onshore and offshore drilling ventures.