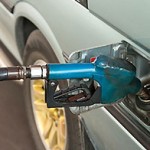 U.S. crude inventories are sitting at record highs of around 2.05 billion barrels right now.
That's not a surprise. After all, there's a lingering global crude glut.
But what's surprising - at first glance - are U.S. crude imports. They're up by close to 1 million barrels per day. The country took in 8.64 million barrels per day in the week ending March 25, compared to just 7.69 million over the same period a year ago. 
Therein lies what appears to be a paradox: Why on Earth would we import more oil when we may be forced to fill swimming pools with it soon?