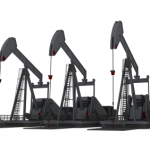 Many investors have heard of the Bakken oil field in North Dakota and Montana, but most are unaware of how important this formation is becoming to the U.S. economy.
More germane to investors is the fact that there is still a lot of money to be made from Bakken oil in the months and years ahead.
Just ask Warren Buffett.
He spotted the potential of Bakken oil well ahead of most and bought a non-energy company that would benefit greatly from the boom. Three years ago he bought Burlington Northern Santa Fe (BNSF) Railway Co. for $26 billion.
That railroad is now one of the main beneficiaries of the Bakken oil boom. (And people thought he just had always wanted to own a train set!)
"We're the 1,000-pound gorilla in the oil markets," BNSF CEO Matt Rose told Bloomberg News. "Crude by rail is going to be really strong for us. It's been a real benefit to us to replace some of that lost coal business."
The Bakken oil formation isn't just an investing opportunity; it's transforming the U.S. energy landscape.