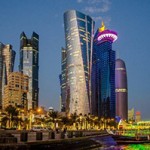 The oil patch is abuzz with rumor and speculation concerning the April 17 meeting of OPEC and non-OPEC oil-producing nations in Doha, Qatar.
In fact, the markets have already reacted to the meeting, even though it hasn't happened yet; the New York-set crude benchmark West Texas Intermediate surged more than 4.5% this week, a week that saw crude head up for the most part.
But as I've said throughout oil's ongoing volatility, these days, perception and expectation in the oil markets are far more important than fundamental supply and demand. Demand is growing, and higher prices can unleash more than enough supply to meet that demand.