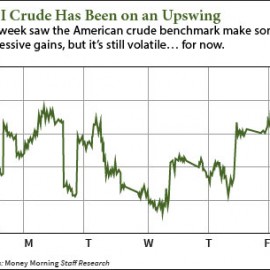 We've been able to make energy profits during the oil bear because I'm tracking opportunities outside of petroleum. One of my favorite alternative "oil-killer" energy plays, for instance, is up 45% since I recommended it. The global energy balance is simply shifting to favor these alternative energy sources.
But oil is still vitally important, and I'm pleased to report that it's going to be a bigger source of profits moving forward...
You see, towards the end of February, we saw signs that oil is about to turn the corner, with oil prices shooting up 8.5% in a single week.
While they later fell a bit, showing that volatility is still the name of the game, make no mistake...
A sustained rise in oil prices is coming.
To prepare for this trend, I've put together a plan for us to profit.
I'm tracking several companies across four different categories, but this one strategy will get you perfectly positioned to capture the biggest possible profits from the coming end of oil's decline.
In a moment, you'll see exactly how this plan will work.