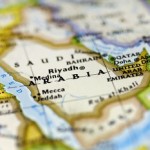 Another Saudi official is trying to downplay the kingdom's expanding deficit - as their problems get worse...
On Saturday, Foreign Minister Adel al-Jubeir maintained that the current situation was manageable. He was speaking at a conference in Manama, the capital of neighboring Bahrain.
The situation, of course, has been sparked by two Saudi-led decisions within OPEC. The first was to defend global market share by keeping production high (a move made last year while Americans were sitting down to their Thanksgiving turkeys). That started a downward slide in global oil prices.