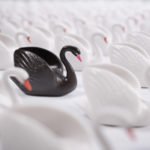 The idea of buying low priced options on events conventional wisdom says will not happen may seem like a crazy idea.
But the fact is that if you get the payout and probability math correct, it can be a source of wild profits.
We call these "Black Swan" trades.
Most of the events will never happen, and you will lose money on the options you purchase.
Those that do work, however, will make you an enormous amount of money.