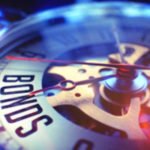 When you hear the word "bonds," I know what you're thinking – it's the slowest way to make a profit in the market. And by slow, I'm talking 15, 20, even 30 years to grab the gains you need to live the life you've always dreamed of.
And here's the catch – while you're waiting all those years, the big banks are reaping the benefits of your investment by pocketing the interest off your hard-earned cash.
But you don't have to pad the pockets of those greedy fat cats...
You see, there's only one way to "flip bonds" for a fast profit, and that's exactly what I'm going to show you today.