outrageous drug price increases
Article Index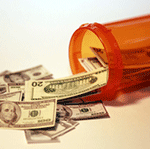 Americans need to brace themselves for more drug price increases, as they're not as unusual as you might think.
Although the most outrageous drug price hikes, like Turing Pharmaceutical's 5,455% increase in the price of Daraprim, get a lot of media attention, dozens of others don't.
And yet some of these lesser-known drug price increases are worse than the ones in the news...