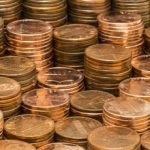 The Dow Jones finished April with its strongest month since 1987 as investors poured capital into beaten-down stocks.
At Money Morning, one thing we've been focusing on is penny stocks - shares that you can buy for under $5.00 that are poised to breakout in the coming month.
Just two weeks ago, we outlined three penny stocks that have outperformed the market.
On April 19, we laid out three different penny stocks for April.
Since those recommendations, we've seen solid gains.
We're tapping into several penny stocks that are poised to breakout this month.