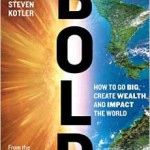 When done right, tech investing can be the single best wealth engine ever. For instance, one thousand dollars invested in Apple Inc. (Nasdaq: AAPL) ten years ago today would now be worth $20,610.
For that reason I was excited to pick up Bold: How to Go Big, Create Wealth, and Impact the World on its Feb. 3 release. I wanted to see what kind of moonshot thinking coauthors Steven Kotler (best-selling author and science journalist) and Dr. Peter H. Diamandis (Chairman and CEO of the X PRIZE Foundation) had in store.
To my surprise, the 336-page manifesto - that wasn't explicitly written for tech investors - has more to offer them than any other book due out this year.