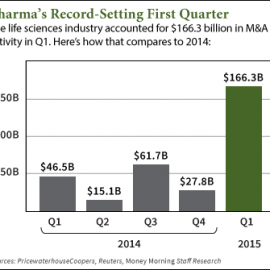 The pharmaceutical industry saw record-setting M&A activity in the first quarter of 2015.
According to PricewaterhouseCoopers, the "life sciences" field had 35 deals in Q1 2015. Those deals totaled $166.3 billion. That's more money than was spent during the entire year in 2014, when $150.1 billion was spent. In Q1 2014, just $46.5 billion was spent.
Money Morning's Defense and Tech Specialist Michael Robinson has been recommending a way to profit from the M&A boom throughout 2015.