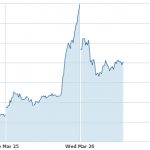 The roller-coaster ride in Plug Power (Nasdaq: PLUG) stock continues....
Shares of the fuel cell system provider surged 49.03% to $8.48 Tuesday on extremely heavy volume of 137.02 million shares. Sending the stock soaring was a MarketWatch piece noting the company's chief executive officer disclosed he was set to announce a major deal in the next few weeks.
"We signed an additional order in North American with a global automaker," MarketWatch reported PLUG CEO Andy Marsh said in a telephone interview Tuesday.