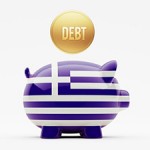 Greek Finance Minister Yanis Varoufakis has had a whirlwind schedule lately. On April 16 and 17 he attempted a last-ditch whirlwind "Washington Tour," meeting with U.S. President Obama, IMF boss Lagarde, ECB potentate Draghi, U.S. Treasury boss Lew, and even German Finance Minister Schäuble.
In search of sympathetic support, Varoufakis found little.
But the most intriguing meeting was with someone whose name most wouldn't recognize.