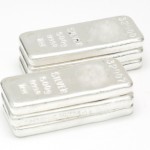 Silver prices are up nearly 8% in the past couple weeks as investors increasingly load up on the white metal.
In fact, the U.S. Mint has temporarily suspended sales of its 2013 American Eagle silver coins because it has none left.
Reuters reported today (Friday) that the Mint plans to restart sales in the last week of January after it has had a chance to restock.
The U.S. Mint generally sees a big influx of demand when it releases new coins at the beginning of the year. This year, however, investors seeking a safe haven for their money added to the usual collector demand leaving the Mint's vaults bare.
"It is easy to infer that some element of the fear trade may be at play," Joni Teves, an analyst at UBS AG in London, wrote today in an e-mailed report cited by Bloomberg News. "We view the chunky sales of American Eagle coins more a function of seasonality than anything else. It is important to keep an eye on U.S. coin sales in the coming months to see if volumes remain elevated as the debt ceiling showdown plays out."