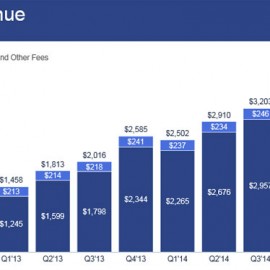 Facebook Inc. (Nasdaq: FB) beat top and bottom line estimates today (Thursday).
Full year 2014 FB earnings revealed a 58% increase in revenue year over year ($12.47 billion). Monthly active users (MAUs) - FB's lifeblood - grew to 1.39 billion for an increase of 13% in 2014. And mobile MAUs grew 26% in the same period.
The company overcame a disastrous 2012 IPO. Now, Facebook stock is up more than 38% in the last 12 months, and nearly 150% in the last two years.