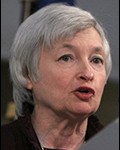 Janet Yellen made her debut before Congress Tuesday as the new head of the Fed...
And just like they did for her predecessors, the markets hung on every single word.
Except in this case, nobody (and I mean nobody) expected any major fireworks. What they were looking for instead was a confirmation that it would be "business as usual."