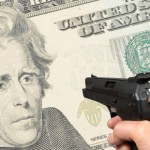 Many have wondered - and rightly so - why the U.S. dollar is rising even though the U.S. Federal Reserve has done just about everything possible to debase the currency over the past five years.
Over the past two years, the U.S. Dollar index, which measures the dollar against a basket of major world currencies, is up by more than 12.6%.
Part of the answer is that most of the world's other central banks have pursued easy money policies similar to the Fed's. In the so-called "currency wars," the U.S. dollar has one major built-in advantage.
"The U.S. has never defaulted," explained Money Morning Chief Investment Strategist Keith Fitz-Gerald. "The world may hate our guts, but when all hell breaks loose, they all love our dollar."
Also helping to explain why the U.S. dollar is rising is that it remains the world's reserve currency - the money a majority of nations use to buy commodities such as oil -- and that the U.S. economy, for all its warts, is in better shape than most of the other developed economies in the world.
"The dollar the best-looking horse in the glue factory," Fitz-Gerald said.
So it wasn't too surprising that when the Fed recently hinted that it might start "tapering" its quantitative easing (bond-buying) policies later this year, the U.S. Dollar index spiked 3.1%.
But Fitz-Gerald said that investors still need to be wary of the stronger U.S. dollar going forward.
This Sept. 2 Event Could Send the U.S. Dollar Crashing