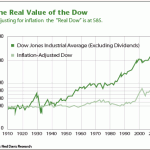 The economy may be sluggish, and the deficits out of control, but you could never tell it from the stock market.
Thanks to Ben Bernanke, the markets are at all-time highs.
But before you pop the champagne, you should know that there's a big difference between "nominal" and "inflation-adjusted" numbers.