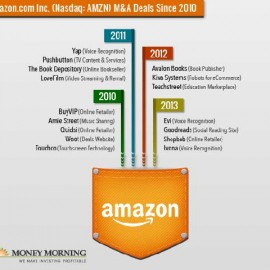 Tech M&A deals are so commonplace now they often come and go with little fanfare. Apple Inc. (Nasdaq: AAPL) alone has acquired 44 companies since 2000. Google Inc. (Nasdaq: GOOG, GOOGL) has gobbled up more than three times that, with 144 buys in the last 15 years.
These deals are actually changing our lives - perhaps more than we realize. For instance, Google bought mobile software Android in 2005. Now, Android smartphones account for 78.4% of global market share. There are 76 million Android users in the U.S. alone.
Here are five charts that show the recent M&A deals from American tech sweethearts Apple, Facebook, Amazon, Yahoo!, and Google.