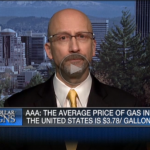 Restoration of the payroll tax and higher gas prices have put the squeeze on consumers, prompting nearly half of Americans to cut spending.
Is the combination of higher taxes and higher gas prices enough to bring on a recession in 2013?
Money Morning Chief Investment Strategist Keith Fitz-Gerald appeared Friday on FOX Business Network's "Varney & Co." to talk about the potential for an economic slowdown.