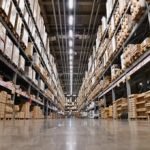 While the media has focused solely on the demise of commercial real estate during the COVID-19 crisis, some sectors will see a boost in the aftermath of the economic shutdown.
First, e-commerce will expand in the years ahead, which will keep the economy growing.
While it is indeed horrible news for mall owners, it is good news for the owners of warehouses and distribution centers that service e-commerce.
Industrial REITs own precisely that type of property and should survive the crisis and thrive for decades on the other side of it all.
Today, we're looking at the three best REITs to buy in this space for May.