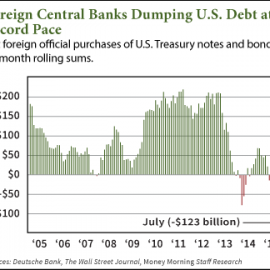 Foreign governments buy U.S. debt because of its status as the world's reserve currency – the American economy has long been viewed as a safe place to invest.
But that's all changing now – events that could spark a U.S. economic collapse are already underway…
The Wall Street Journal revealed this week that China – the largest holder of U.S. investments – is ridding itself of its U.S. investments at the fastest rate in history. Central banks in China, Russia, Brazil, and Taiwan are selling U.S. government bonds at such a pace that it's caused the most dramatic shift in the $12.8 trillion Treasury market since the 2008-2009 financial crisis.
Foreign central bankers' massive offloading of U.S. debt sends a dangerous signal.