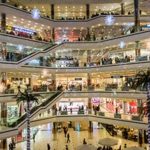 Thanksgiving in the Barton house is all about gratitude. We're thankful for such a wide range of blessings - time with family and friends, delicious food, and yes, even a little football.
But once Thanksgiving is over, aside from a glance or two at a smartphone or laptop, no one even considers venturing out into Black Friday.
As one of only two states east of the Mississippi that doesn't have sales tax (New Hampshire is the other), Delaware malls and stores in general get overrun on big shopping days. The Bartons avoid that fray - but thousands of others jump right in...
As do millions more all around the country.
Americans spent $4.2 billion at online sales alone on Thanksgiving Day, and another $7.4 billion on Black Friday.
That second number alone is up 19.6% from last year's Black Friday.
I certainly can't fault the retailers for putting on those sales.
For them, Thanksgiving, Black Friday, and the weekend after can make or break their whole year.
The five days from Thanksgiving Day through Cyber Monday are the highpoint of the holiday shopping months of November and December.
And just those two months make up between 20% and 30% of annual sales for American retailers.
So with Cyber Monday now behind us, you'd think the news would tell you which retailers did well, which didn't, and most importantly, what you should do about it.