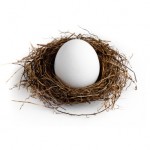 If you have a 401(k) chances are you're getting ripped off and you don't even know it.

With all of the associated 401(k) fees, the truth is you could be losing as much as 33% of your retirement nest egg to the financial advisors who run your plan.
Typically, these fees are completely buried in your 401(k) statement-- and even if you do manage to find out how much they are, the fees won't seem like much at first glance.
But overtime, the fees can literally cost you a small fortune.