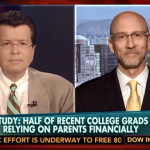 It's bad enough that freshly minted college graduates can't find jobs, but when that forces them back home to Mom and Dad, it can also have an impact on retirement planning.
What this means, Keith said, is that parents need to figure out a way to help out struggling offspring without completely derailing their retirement savings.
In this video, Keith explains why this is happening and how parents should handle it...