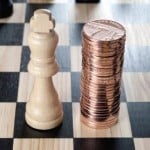 Sometimes even a 24,000% gain can be a bad thing, especially if it involves a very dicey penny stock.
CYNK Technology Corp. (OTC: CYNK) spiked from $0.10 in mid-June to a Wednesday closing price of $14.71 in less than four weeks. But according to publicly available data, CYNK has never earned any revenue and had lost $1.5 million as of the end of 2013. Oh, and the company has no assets, either.
How could a penny stock like CYNK soar so dramatically, and who might be orchestrating it?