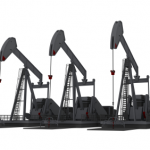 U.S. energy independence has been a dream since the oil embargoes of the 1970s. But this vision of a "Saudi America" has always been just a dream.
Investors and non-investors alike started talking in earnest about realizing that dream last November. That was after the International Energy Agency's (IEA) latest World Energy Outlook said that the U.S. would overtake both Saudi Arabia and Russia in oil output by the second half of this decade.
Its forecast calls for the United States to be producing 11.1 million barrels a day in 2020 compared to Saudi Arabia's 10.6 million barrels a day.
The IEA's Outlook went on to say that by 2035 the United States could be almost self-sufficient in energy, and talks about "Saudi America" began to surface.
That talk picked up energy recently after the release of the annual energy outlook from BP PLC (NYSE ADR: BP). BP stated the U.S. would be 99% energy self-sufficient by 2030 and that it would be the top global oil producer this year.
Here's why the IEA and BP are so optimistic.