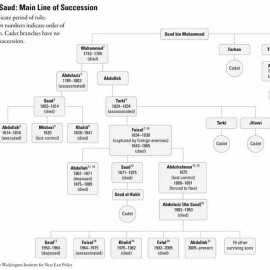 Saudi King Abdullah bin Abdulaziz passed on Jan. 22, 2015 at age 90. His death triggered the biggest challenge to the Saudi dynasty in 50 years...
You see, the founder of the Saudi state, King Abdulaziz ibn Saud, decreed only that his first son would inherit the throne. Over the six decades that have followed King Abdulaziz ibn Saud's rule, succession has passed from brother to brother, almost always in order of their age.
But the last of the current line of 35 brothers will soon die out completely.