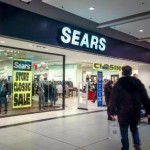 As Alibaba enjoyed sales of over $7 billion on Monday, its iconic retail antithesis in the United States edged closer to its demise.
On Friday, November 7, Sears' stock jumped by 31% to $42.81 per share after the company announced that it was considering selling 200 to 300 of its 712 company-owned stores to a real estate investment trust (REIT).  
Lest you think that's great news, consider that Sears is down nearly 50% over the past five years, and nearly 60% over the past ten years.
This was the Big Bank announcement many investors have been waiting for since hedge fund billionaire Edward Lampert took over the company a decade ago and combined it with another troubled retailer, Kmart. 
As it became increasingly obvious that Sears' retail business was failing, supporters of the company assured doubters that its vast real estate holdings would vindicate Mr. Lampert. After all, he bought back huge amounts of stock at prices as high as $190 per share, a massive paper loss to this point. 
But the REIT announcement should be seen as the death knell for the company. Sale of its last remaining valuable assets moves Sears one day closer to being put out of its misery.  
It's a sad tale for what was once an iconic American retailer, and investors need to know how this endgame will play out.