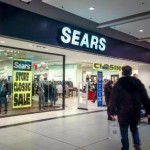 Investors reacted with joy when Sears announced on November 6 that it would sell 200 to 300 of its stores
to a real estate investment trust (REIT) in 2015.
It was the "Big Bang" announcement investors had been waiting for since hedge fund billionaire Eddie Lampert combined Sears with the bankrupt retailer Kmart a decade ago.
But, after a quick share price pop, "be-careful-what-you-wish-for" investors have figured out that the REIT transaction will saddle the company with an additional $150 million in operating expenses and gut the company of its last remaining valuable assets.