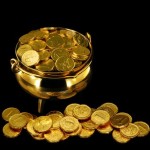 For nearly 100 years the London gold price fix has been widely used as an industry benchmark.
Its goal was to determine a price for gold that bullion dealers, jewelers, miners, and central banks could use to value their metal.
But it's a process that may have allowed for manipulation, something a recent Financial Times article highlighted thanks to new research.