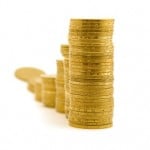 Confidence in the U.S. dollar is so low that 13 states are poised to recognize gold and silver coins as legal tender.
Arizona is the latest state set to make the move.
Monday, the Republican sponsored Arizona measure sailed through the House of Representatives 36-2. The bill moves on for another vote in the Senate, where it got its first nod Feb. 28 in a 17-11 vote.
Should it land on Gov. Jan Brewer's desk, it's good as gold.