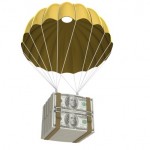 When most corporate employees leave their jobs, it means the end of the paycheck.
But many executives at the top of the corporate ranks leave with a golden parachute, enabling them to live comfortably regardless of their reasons for leaving. Just check out the list below of Top 10 CEO severance packages.
One executive you won't see on the list: Groupon Inc. (NYSE: GRPN) embattled former CEO Andrew Mason. While the news of Mason's firing wasn't too shocking, what was surprising is the $378.36 retirement package he walked away with.
That's not a typo.