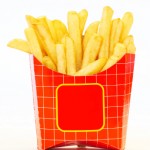 Investors fought over the IPO shares of Shake Shack like kids fighting over a McDonald's Happy Meal.
Initially priced at $21.00 per share, Shake Shack stock ended its first day of trading up over 100% at $45.90, moved to just north of $52 per share, and even after an inevitable pull back is still ahead nearly 95%.
The very trends that are pumping up Shake Shack's shares have left those of McDonald's, the most iconic name in hamburgers and perhaps in the entire global restaurant business, becalmed.