shake shack stock
Article Index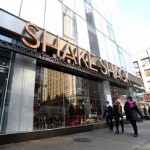 The Shack Shake stock price is up 2.4% today as the Dow and Nasdaq are both up as a whole.
But the SHAK stock price is down 16.76% on the year because Wall Street created an inflated price for early investors through hype.
Some investors may view the falling SHAK stock price as a buying opportunity, but here's what Money Morning readers need to know about the Shack Shake stock price entering 2016...