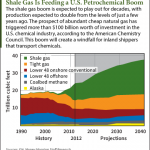 When considering which shale oil and gas stock to buy, it's easy to forget about the companies reaping the rewards of the shale energy boom without ever drilling a well.
One such company has seen its stock rise 455% since March 2009.
This company has found multiple ways to profit from the shale energy boom.