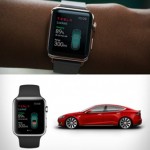 At about this time last year a lot of pundits were talking about Apple buying Tesla.
This week the idea got some new life when several camera-laden minivans owned by Apple Inc. (Nasdaq: AAPL) was spotted in the Bay Area.
Apple has a ton of cash and needs to do something now to prepare for the day when the iPhone can no longer carry the company. Apple buying Tesla would give it a way into the auto industry.