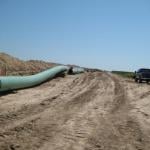 President Barack Obama will be forced to make some kind of decision on the long-delayed Keystone pipeline within the next few weeks.
A Dec. 6 runoff election for a Louisiana Senate seat pushed a Keystone pipeline vote to the top of Washington's "to do" list. Both houses are expected to approve the legislation and send it to President Obama.
At that point, the president will no longer be able to delay a decision.