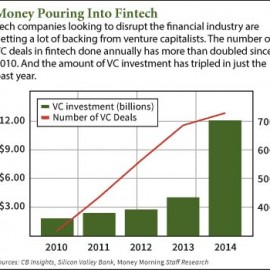 Hundreds of Silicon Valley companies have hit venture capitalists' radar because of their ambitious goal: Invent ways to disrupt the banking industry as we know it.
It's about time.
Banking is one of few industries to have escaped disruption from the digital revolution.
Most of its infrastructure is decades out of date. People still use paper checks, debit cards required PINs, and money transfers take days to go through. Venture capital is pouring in because Financial tech ("fintech") companies are solving these issues.