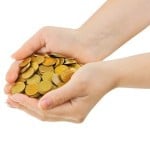 Legendary investor Jim Rogers sees now as a great time to load up on gold and silver coins - and he's not alone.
A record 7.5 million ounces of silver coins were sold in January as investors hunted for a safe haven investment.
"You can't get [silver coins]. They sell out," Rogers, who owns a rare 2013 silver coin, said on Yahoo! Finance's "The Daily Ticker." "Several mints have run out of coins because everybody's worried about the future of the world."
And 150,000 ounces of American Eagle gold coins were sold in January, the highest monthly total since July 2010.
"Gold has been up 12 years in a row which is extremely unusual for anything," added Rogers. "A lot of speculators are rushing into gold right now. I'm not rushing into gold, but I'm certainly not selling it. If it goes down, I'm buying more."